Fastback F-150 Bed Cover Turns Your Truck Into A Mach 1!
Have you ever laid in bed at night and wished your F-150 had a fastback bed cover – like a Mustang? Somebody did, and now it's a thing.
Michigan Vehicle Solutions (MVS) is a Michigan-based company providing a wide catalog of OEM automotive services to companies like Ford, GM, and Chrysler, as well as with their suppliers. They specialize in vehicle restorations, component fabrication, and various testing operations. Being more of a back-end player, most of us have likely never heard of them. But MVS is about to become synonymous with the fastback.
Resurrecting A Legend
Somebody over at MVS decided to take a gamble on a production-model shell for the post-2015 F-150 that looks like it was cut out from a '69 Mach 1 Mustang! The Drive got the insider scoop from CEO Rich Oliver:
"We looked around and saw the lack of innovation out there. It's time for a different thing from our grandfather's bed caps."

-Rich Oliver, CEO MVS
The Aero-X truck cap fits post-2015 F-150s with 5 1/2-foot and 6 1/2-foot bed lengths, and secures to the bed rails as any standard shell would. Although the product lineup is currently limited to just the new-model F-150, Jim Thompson, the MVS program manager responsible for the project, told Motor Trend there are currently over 400 people waiting in line to place an order for the $3,995 fastback cap.
https://twitter.com/psyneways/status/1095057781512720384
A New Revolution?
Could this be a new revolution in truck accessorizing? It's definitely out of left field, and I don't think anybody expected something like this to hit the market – ever. Does it encroach too deeply past the obscure lines of reason which must never be crossed? We've seen a lot of burnout trends try to make a name in the industry, only to quickly fizzle out of our awareness.
Will the fastback F-150 be the new rage of the day? 400 interested prospects are hardly enough of a sample to make any type assertations as to the viability of such an ambiguous undertaking. We saw the Plymouth Prowler, the Chevy SSR, the Chevy HHR, and the Ford Thunderbird all crash and burn before they even left the runway.
They were all retro, and we hated each and every one of them. (Either hated, or we started retro-fan clubs, and styled all our PT Cruisers like the vintage era they tipped their hat to, adding insult to injury.)
However, the Ford Mustang, the Chevy Camaro, and the Dodge Challenger all successfully brought retro back with the momentum of a tsunami. We're even accepting (albeit unwillingly) the notion of four-cylinder Chevy Camaro, as well as a hybrid Dodge Challenger! So things are definitely changing as we reevaluate the roles that the automobile plays in our lives, and how we interface with those roles.
A Unique Functional Niche We Haven't Seen Before
There is probably a lot more potential for this apparatus than we realize, and if the wild looks don't fall into overwhelming disfavor, this cover could prove to be infinitely useful. There's actually a ton of stuff you can pile into underneath the cover, should you need to.
No longer are bed covers limited to the flat and limiting profile of your bed rails; no longer do you have to either go flat or wear the ugly square shell that we burned out in the '70s. MVS provides a contemporary compromise that happens to add a vintage throwback to something neat! And it kind of reminds me of a trophy truck.
Right now, the company is currently only producing up to 10 Aero-X caps per week. They don't focus on rapidly expanding a customer base because, as Oliver points out, "Who's going to build them?" The goal, pending the acceptance of this pilot product, is to create fastback shells for every major pickup truck on the market.
I'm not quite sure if a Nissan Frontier would be able to wear a 300ZX profile as gracefully as the car does, but I wouldn't have been sure this was a good idea, had you given me the rundown in the conceptual stages.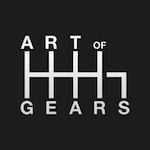 In summary, I like it! I think they're stylish, and serve to fill an area of shortcoming inherent with the truck design that's never been offered a style-oriented solution, until now. Would I buy one? Probably not. Not for $4,000 – but there are a lot of $4,000 things I wouldn't buy.